I'm partial to tales of the sea. Mariner stories draw me right in. As luck would have it, my husband has several maritime characters in his family's history. Coincidentally, they've all been radiomen, committed and vital to the safety of men and vessel. One seaman I've had the pleasure to know is Eric Smith, a true Yorkshireman. That means proud, hardworking gentleman–and storyteller. Kind of like the British version of Texan, only much more refined. After Eric's death in 2011, his daughter Julie dusted off her childhood memories and paired them with Eric's work stories. Then she dove into research in Hull, England, their home city so rich in the culture of food fishing, and in time gifted us with Tommy Ellis, the brave protagonist in a trilogy for youngsters. Julie Bonaficano writes as JES PARKIN. Here's my review of book two just out: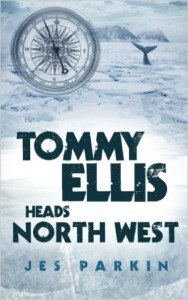 TOMMY ELLIS HEADS NORTHWEST is middle grade fiction but I'm a grandmother, and I learned about the
real
cost of seafood… and had a vivid experience fishing the Polar Sea.
It's 1960 and Tommy is thirteen now. His father is captain of the Stella Vega, a sidewinder trawler that harvests the northern seas out of England. Tommy gets to spend another summer break on the vessel and he's feeling like an old hand. Much is familiar, but plenty of trouble waits to wow him, as they plow through treacherous ice, amid bergs towering like skyscrapers. I could hear the quiet, and feel the dense fog on my cheeks; I could see the distinct hues of ancient frozen waters. Color abounds throughout the story, including colorful characters that watch out for the lad but don't baby him at all.
Poor old Mr Hobbs, he only fishes around Greenland and stands in the bow when they're not trawling, kenning for his lost brother, missing at sea for several years now. Brian, Cook's mate, wants to be a chef because he can't stand to be topside, the decks are too dangerous. And another young lad is guest of his father on this sail, First Mate's son Robert. At ten-years-old, Robert is already in trouble with the law back home and his father is grasping for ways to straighten him out. Robert doesn't like Tommy, is defiant to authority, and determined to do as he pleases. It doesn't work out well. (spoiler alert)
Parkin's book is well paced, not for lazy or squeamish readers, and highly interesting to those of us who appreciate a little historical reality in our fiction. I can't wait for my grandson to be old enough for Tommy's adventures.
Happy reading, Friends!
Buy it here.
And PLEASE post a comment after enjoying the story. Reader feedback helps the trilogy of Tommy get discovered!
---
---