Thumbnail of a Wannabe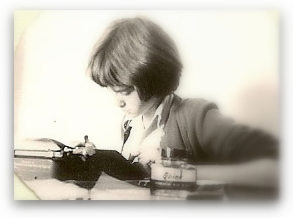 I grew up the middle child of an always-struggling family of seven in rural central Texas. We were just too big for a non-farming clan so food on the table trumped cultural influence most days, but Mother always found time for books and infected me with a passion for reading. Nancy Drew novels made me want to write books. In fifth grade I turned in a C+ story, but remember my teacher saying, " You've got a voice."
Not until much later did I understand her remark, or appreciate the encouragement behind it.
Dad had to follow work and I turned sixteen in Abilene (1966). A bigger town, where busing protests and other serious issues of discussion kept local media hopping.  I wasn't brave enough to march, but I formed opinion over a city council debate that I saw affecting teenage recreation.  Shocked to see my letter to the editor published in the city newspaper, I also received my first taste of hate mail.  But both of my high school English teachers expressed pride that I'd "written convincingly and exercised my voice."  In senior English class, Mrs. Joyce Carroll helped a Writer Dream take shape.
Much later though, when I finally got around to serious pursuit, I just couldn't get clear guidance as to how I make a living as a Writer.  In a hurry by that time, I wanted an instructor to see potential and give me a road map.  None exist, of course.  And college instructors aren't willing to suggest you have talent enough to succeed as a writer; an artistic career means major struggle to pay the rent and it's probably their way of advising that it takes much, much more than a gift with words.  Still, one professor remarked, "you have a voice," and I remembered.
Journalism became a business minor at UNT, although news reporting didn't do it for me, and I went on to author PR and training pieces throughout careers in fashion, healthcare and banking. Ten years ago I decided to write novels and began studying fiction at night through SMU.  That's when undeniable affection for the sixties blossomed. My debut novel, set in 1964, has required years of research and has fed that affection well.
In early '08, banking went bust and personally, I saw divine lining in the lost-job cloud.  Graced with my husband's generous support it was time to climb on that new career path I felt destined to follow.  Time to employ that voice.
---